Nik Halik believes in living life to the fullest. He started life with the same dreams as many kids: be an astronaut, have lunch on the Titanic shipwreck, climb the highest mountains, explore the pyramids. The difference? Nik didn't let go of his dreams, he turned them into goals—and achieved them! A self-made Multi-Millionaire, Nik believes life is about the magic not about the materialism. He emotionally and financially inspires individuals from around the world by sharing his knowledge so they too can experience the thrill of living LIFE without limits. Nik Halik's concept of becoming a Thrillionaire® takes a new generation of individuals to a higher stratosphere.
Welcome to the Thrillionaire® Revolution, Nik Halik's signature event. The Thrillionaire® Revolution is part of the greater Thrillionaire® movement sweeping change across the planet. It will communicate to your inner emotions and stir the fires of your soul. It will enrich your life and guide you to the keys of Mind and Wealth Prosperity. Soon, you will hold within yourself this principle of power that contains the solutions to a brighter future, a path to greatness and the formula for reaching your peak potential. CONGRATULATIONS...
Meet Nik Halik
The Thrillionaire®, Multi-Millionaire, Global Wealth Strategist, International Speaker, Best-Selling Author, Greece's First Civilian Astronaut and High Adrenaline Adventurer
This is truly inspiring…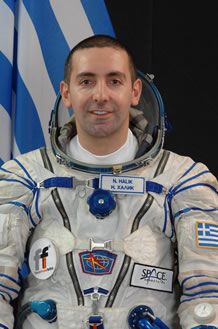 Nik Halik was born in Melbourne. When he was a kid, he suffered from various medical problems, including asthma and chronic allergies. He was medically confined to his room. Every day, he would spend hours watching the other kids come back from school… daydreaming of becoming "normal" and longing to fit in.

But when he was 8 years old, he did one simple thing that changed his life forever. He took a pencil and a piece of paper. And then he wrote down the top ten goals he'd love to fulfil in his lifetime.
As an 8-year-old, he believed everything was possible. And he was determined to fulfil all his goals. For instance…
Nik's Goal #10: To become a rock 'n' roll star

When Nik was 17, he moved to Hollywood. There he performed and recorded with various bands throughout the 1980s and 1990s, including Deep Purple and Bon Jovi.

Goals #9 & #4: To become a millionaire … and own beautiful places all over the world

At 19, Nik bought his first investment property. Five years later, he became a multi-millionaire. Now he owns homes in some of the most beautiful places on the planet, including the Greek Islands, Morocco, Australia, and the U.S.

Goal #6: To go to the bottom of the ocean and have lunch on the Titanic Yes, he's done that – Nik had lunch on the bow of the shipwreck Titanic!


Goal #5: To become an Astronaut
Nik is the FIRST certified, flight-qualified Civilian Astronaut. He has rocketed to the edge of space to view the curvature of the earth. He is also set to become one of the first private space explorers to rocket to the International Space Station, currently orbiting the earth at 25,000km/h.

Thanks to his great achievements, Nik made it on the Greek Rich List.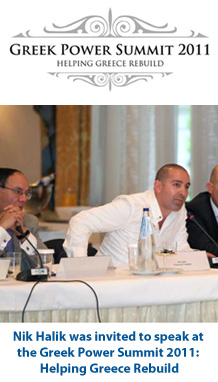 Without a doubt, Nik has proven throughout his life that nothing is impossible.
YOUR DREAMS can really come true – if you have the passion and strategies to pursue them.

Today, Nik devotes his life to emotionally inspiring others to attain financial freedom and live a fulfilling life. He's very passionate about sharing his life stories, financial knowledge … and over 23 years of experience as a Professional Investor, Life and Wealth Strategist. He travels around the world to speak, educate and empower others to pursue and fulfil their dreams.


In addition, Nik has founded numerous educational companies, including Financial Freedom Institute, Money Masters, The Thrillionaires®, iCoach Global, Sharelord® and a myriad of others. His group of companies have financially educated and life coached over 300,000 individuals globally.
At his coming new live event, Thrillionaire® Revolution, Nik is going to reveal secrets like:
How to explode your income by resetting your financial blueprint and setting your "Money Thermostat" to the "ON" position
How to predict the next 5-10 Years of your life.
How to define your "WHY" and the real "WOW FACTOR" of your life
How to think differently and "VALUFACTURE" more intrinsic LIFE values and experiences on your mosaic.
What strategies in today's economy are mandatory to ensure your survival for the next 5-10 years.
The revolutionary process to uncovering your life passion and body of work.
How to draft your very own screenplay and predict your next decade of excellence.
These are all proven secrets that Nik used to fulfil his wildest dreams. Now he's going to show you how you can do that, too – at
Thrillionaire® Revolution
.
But that's not all. Nik will present his Sharelord Investment Strategy - what he believes is the most Powerful Cashflow Strategy on the planet:
Historically, this strategy could generate an average CashFlow of 3-9% per month. Takes only 5 minutes a day once you've mastered it..
How to acquire shares wholesale using Options. Why pay retail prices when you can get them at wholesale prices? Not one investor in a hundred knows how to do it.
How to Reverse-Engineer the Stock Market and become the CASINO.
How to Create the market as opposed to Trading it.
Why trading the Stock Market and the "buy low, sell high" system is a fallacy. Most investors get burned using this traditional strategy. What you should do instead.
How to potentially generate massive CashFlow and earn an income, no matter what the market is doing. Complete steps revealed at the event.
How to insure your shares for Capital Protection. Virtually at no cost to you. Gives you peace of mind. Even if the market crashes the next day, you're protected.
How this CashFlow formula can potentially help you pay off your home loan sooner … dismantle credit card and personal debt … and create long-lasting wealth for you.
And much more!
Meet BOB PROCTOR
The MASTER THINKER…
THINKING INTO RESULTS. REINVENT YOURSELF FOR SUCCESS!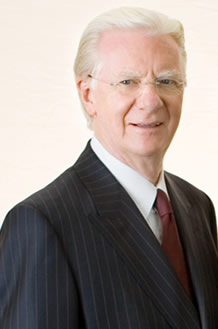 Featured in the blockbuster hit, The Secret, Bob Proctor is widely regarded as one of the living masters and teachers of The Law of Attraction and has worked in the area of mind potential for over 40 years.  He is the best-selling author of You Were Born Rich, and has transformed the lives of millions through his books, seminars, courses and personal coaching.
Proctor is a direct link to the modern science of success, stretching back to Andrew Carnegie, the great financier and philanthropist.  Carnegie's secrets inspired and enthused Napoleon Hill, whose book,
Think and Grow Rich, in turn inspired a whole genre of success philosophy books. Napoleon Hill, in turn, passed the baton on to Earl Nightingale who has since placed it in Bob Proctor's capable hands.
Proctor's wide-ranging work with business and industries around the world extends far beyond the pep rally syndrome. Instead, it encompasses working with business entities and individuals to develop strategies that will assist individuals at all levels to grow, improve and adapt to the ever-changing nature in today's world. His company, LifeSuccess Productions is headquartered in Phoenix, AZ and operates globally. 
How to make the Mind-Money Connection

Why we get the results we do and don't get some of the results we would like to

How to bridge the all-important gap between knowing and doing
The creative process to achieving any goal you seriously want
What a paradigm is, how it's formed and how it can be changed for lasting results
How your paradigm controls your thinking and your thinking controls your results... Your paradigm controls EVERY aspect of your life ­ from your weight, your relationships to how much money you earn
How to stop living through your physical senses and start using your creative mental faculties to create the life you desire
How the Law of Attraction works perfectly ... every time, for every person
And much more...
Meet Xenia Ioannou
Cypriot-Australian
THINKING INTO RESULTS. REINVENT YOURSELF FOR SUCCESS!

Xenia Ioannou was born in Morfou Cyprus 4 years before the Turkish invasion her family moved to Australia in 1974 as refugees. Since 1974 she lives in Australia where she believes that success is living your life exactly the way you want to live it and having the power to stay on your own path and not be derailed by other people's unconscious programs.
Xenia is a living example of life balance, a devoted mother of 3, entreprenueer, business owner, author and investor, Xenia believes that to achieve everything you want to achieve, you need to generate the head space to do it and that means running your life through your own power and not your conditioning.
Xenia has inspired hundreds of people around the world to learn to create wealth through a conscious and aware state rather than an unconscious and reactive state that 98% of the population run on.
Xenia Ioannou is a powerful and influential woman who inspires people to tap into their true wealth. As the Founder and Director of Wealth Zone Education Pty Ltd and the positively-charged and paradigm-shifting Leaders, Visionaries and Millionaires Conference, Xenia is passionate about creating wealth and assisting others to do the same in their own lives. 
The Science of Success:
How to be the pilot of your own life. 98% of the population live a life-on-autopilot existence driven by their conditioning.

How society and the media feed human conditioning and keep people sick, stupid and flat broke.

How to understand the levels of human consciousness. So that you can stop playing the games that are not working for you.
How to recognize anchors that are holding you back. You will be surprised at what you assumed was "normal".
How there is no such thing as a limiting belief and that you cannot really create your life through "thought".
How most people are not even conscious of being unconscious and how you can no longer afford to run your life, your business, your health or your wealth creation potential in an unconscious autopilot, reactive condition.
And much more...
Don't Miss Out! Claim your Ticket to Thrillionaire® Revolution CYPRUS now!
The Thrilllionaire® Revolution is unlike any event you'll ever attend. There's no other training program that shows you how to squeeze all the fun, enjoyment and freedom out of life possible.

I want to thank you for your time. And I really look forward to seeing you at the Thrillionaire® Revolution CYPRUS.

Dare to dream... Live with Passion... Make your life an epic and extraordinary adventure.

Yours in Prosperity


Nik Halik
THE THRILLIONAIRE® 

CEO & Founder of The Financial Freedom Institute

P.S. Could you get excited about having all the free time you want? Are you looking forward to being excited about your future again? Well, then doesn't it make sense to do something now before it's too late and discover the money-making, freedom-giving strategies that very few others know?

Don't you feel you deserve to have a wealthier life after all the effort you've put in to get this far?

Well, the Thrillionaire® Revolution event is going to give you everything you need to do exactly this!

P.P.S Have complete freedom to do whatever you wish. Play the game of life by your rules… Not only that, but also every passing minute is a potential $100, $1,000, even $100,000 in extra profits you might have added to your bank account. And each passing minute is unrecoverable. It's gone forever!

Haven't you waited long enough?
-----------------------